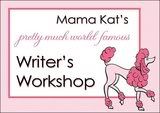 Mama Kat's assignment this time around is as follows:
About me. Do you have an about me page? Because people want to know. Write a page that describes who you are and what you're about or spruce up your current about me page!
Here is the preview before I permanently link it to my 'About Me' section.
--------------------------------
I am a lover of lists. I could give you my life story in paragraphs, but that would bore me. And probably you : )
LOVE
:
Reading, Writing, Photography, Scrapbooking, Blogging, Learning blog design, Lists, Collecting tv show boxed sets, Beach, Swing sets, Maple candy.
HATE:
Bagpipes, Insects, Putting away laundry, Series finales, Cooking,
DREAMS:
To go to the Bahamas, Run my own used bookstore, Become a professional photographer
CREEPER LINKS:
(cause everyone likes to creep at times)
- I have a
paper version
of me that lives a more exciting life than I do.
- I have a
boyfriend
. It will be two years on May 15th.
- I have a
family
. A younger sister and brother (twins), a mother, and the cutest
nephew
in the world.
- I have a
job
that I really love. I'm a front desk person at a hotel. I also have a second job as a grocery store cashier. I don't love that job so much.
- For more hardcore creeping, see my
Contact
page.
IMPORTANT POSTS:
My life over the years
Intro to Me
My first trip!
-
Part 2
Now please introduce yourself and say hi! No creeper links required.