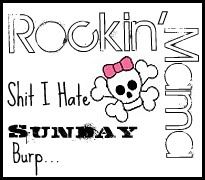 Shit I hate...
- Trying to watch television shows online.
- People who 'unfriend' you on facebook then try to re-add you a few months later. What, did I suddenly get more interesting to you?
- People who think they understand. You'd have to talk to me to know.
- Moving while pregnant. Being stuck with most of my possessions in boxes in the backseat of my car for the next few days.
- Cooking. My God I hate it.
- Our postal service being on strike. And how my baby shower invitations sent on the same day have made it to the middle of the country, but not to the next province over.
- The cramp I always get near my ribs on the right side ever since getting knocked up.