Post a picture and a description that fits into this quote for you:
"How far to heaven? Just open your eyes and look.
You are in heaven" - Shankar
I chose this picture, because this little boy is pretty much the love of my life and not only does it look like he's about to swing up into the sky, but it was an amazing day spent with my family taking a bunch of photos on the beach. It was a great day.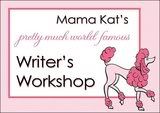 I decided to take part in Mama Kat's Writer's Workshop today. It's only my second time. The first time I listed
30 goals
to complete this summer. Fun stuff : )